Firewalls Don't Stop Dragons: A Step-by-step Guide To Computer Security For Non-techies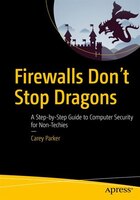 Rely on this practical, end-to-end guide on cyber safety and online security written expressly for a non-technical audience. You will have just what you need to protect yourself-step by step, without judgment, and with as little jargon as possible. Just how secure is your computer right now? You probably don''t really know. Computers and the Internet have revolutionized the modern world, but if you''re like most people, you have no clue how these things work and don''t know the real threats. Protecting your computer is like defending a medieval castle. While moats, walls, ...
Related Products
0.00
You can remote start or lock and unlock your car just by pushing a button on your iPhone or iPod Touch; using the exciting new Viper SmartStart app from Directed Electronics, the leader in vehicle security and remote start. The simple graphical interface gives you control over the following features of your installed Viper remote start or security/remote start system:Lock/arm, Unlock/disarm, Remote car starter, Trunk release, Panic or car finder
0.00
SmartKey Bluetooth Module for Smartphone Integration with Car Security/Remote Start Systems
$48.46
Features:*Remote Monitoring: You can open or close the door by the APP. You can authorize multiple people you trust to access your garage.*Voice Control: You can activate your garage door opener by placing a voice Compatible with Alexa or Google Assistant device or driving near the garage door (IFTTT).*Timer Countdown Function: You can set schedules to open and close your garage door. You can also set the countdown time to close or open the garage door.*Linkage with Alarm System: Can be connected to an alarm and will activate the alarm system when the garage door is opened by a stranger.*Real-time Door State Show on APP: You can check whether the garage door is open or not on APP without getting out of the car. When the garage door is opened or closed, it will remind you in time to make your life safe.*Easy to Use: Just connect the opener to the 2.4G WiFi network. You can instantly control the garage door by tapping the TUYA or SMART LIFE app on your smartphone. Quick and easy installation without a professional.*Wide Compatibility: You can only use one controller per garage door opener. Compatible with most general garage door openers.