Firewalls Don't Stop Dragons: A Step-by-step Guide To Computer Security For Non-techies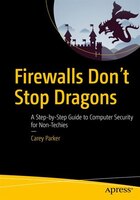 Rely on this practical, end-to-end guide on cyber safety and online security written expressly for a non-technical audience. You will have just what you need to protect yourself-step by step, without judgment, and with as little jargon as possible. Just how secure is your computer right now? You probably don''t really know. Computers and the Internet have revolutionized the modern world, but if you''re like most people, you have no clue how these things work and don''t know the real threats. Protecting your computer is like defending a medieval castle. While moats, walls, ...
Related Products
$24.00
The Sportsman Series Hand Crank Emergency Radio is a multi-function palm-sized FM Radio with a weather band feature an 85 decibel emergency alarm a smart phone charger and an LED light than runs on power created by the hand crank. Hand crank power ensures you always have enough juice when power is not available. Hand cranking for just one minute will provide up to 30 minutes of light 10 minutes of radio and 3 minutes of emergency alarm. This Emergency Radio can charge most smart phones with the included female USB adaptor you can use to connect with your existing phone charger. Hand crank the device for 3 minutes to get up to 10 minutes of mobile phone power. Keep an Emergency Radio in the emergency supply kit in the car and house and one in the tent for use at the campsite. A switch on the front of the Emergency Radio lets you easily alternate between the FM radio and weather band features. The weather band radio connects to a nationwide network of radio stations broadcasting continuous weather information directly from the nearest National Weather Service office. Stay informed about severe weather conditions in your area or the forecast for the day when you are camping in the woods. A headphone jacks lets you listen to the news and weather without disturbing your family. Features: Crank for 3 minutes to power a cell phone for 2-10 minutes Crank for 1 minute for 30 minutes of light 10 minutes of radio and 3 minutes of emergency alarm No batteries required just crank to charge Includes a female USB adaptor to charge your smartphone Bright LED light can be used during blackout Multi-function palm-sized FM radio with weather band Emergency alarm cell charger and LED light
$297.94
Features:¡¾AI Algorithm with Wide-angle¡¿Built-in person recognition algorithm, motion-activated or person activated camera and lamp by 180 ultra wide angle motion sensors, detecting movements within Max 12m. Suspicious intrusion detection to avoid false alarm.(Such as light changes, tree leaf movements, passing cars and non-human being objects.)¡¾APP Remote Control 1080P HD ¡¿Provides with full HD 1080P color images. Support Android/IOS phone APP monitoring your home surroundings security anywhere at anytime, lights and siren can be controlled remotely by APP CAMB.¡¾Support Cloud Storage and TF Card Storage¡¿Freecam floodlight WIFI security camera will provide you 30 days free cloud service and support up to 64GB TF card storage(Not included).¡¾IP65 Weatherproof Easy Installation¡¿IP65 weather-proof, you can place the Wifi 1080P floodlight camera outdoors without worrying about the weather: Rain or shine, hot or cold, FREECAM never stops protecting you. Besides, easy, intuitive installation, can be installed in place of any existing lamp.¡¾Light-Camera Alert Section Selectable¡¿Lamp Appearance Camera, combines outdoor surveillance with lighting, secretly recording once triggered. Alert sections can be selected by the APP. Active alarm with flash light from the smartphone APP and intruders can be driven away by loudly threatening sound with built-in siren and two-way talk function.
$48.46
Features:*Remote Monitoring: You can open or close the door by the APP. You can authorize multiple people you trust to access your garage.*Voice Control: You can activate your garage door opener by placing a voice Compatible with Alexa or Google Assistant device or driving near the garage door (IFTTT).*Timer Countdown Function: You can set schedules to open and close your garage door. You can also set the countdown time to close or open the garage door.*Linkage with Alarm System: Can be connected to an alarm and will activate the alarm system when the garage door is opened by a stranger.*Real-time Door State Show on APP: You can check whether the garage door is open or not on APP without getting out of the car. When the garage door is opened or closed, it will remind you in time to make your life safe.*Easy to Use: Just connect the opener to the 2.4G WiFi network. You can instantly control the garage door by tapping the TUYA or SMART LIFE app on your smartphone. Quick and easy installation without a professional.*Wide Compatibility: You can only use one controller per garage door opener. Compatible with most general garage door openers.