Teklink Security SM-3803 Solar Power Outdoor-Indoor Dummy Camera with LED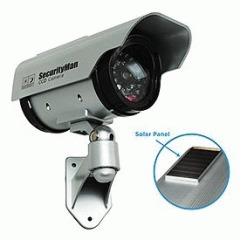 Go green with SecurityMan SM-3803 inexpensive solar dummy camera. It can be used to increase security presence for your home or business. It features energy saving designed solar panel capable of charging rechargeable batteries and conserve/extend the battery life of standard batteries (2 x AAA requires battery not included). The built-in solar panel will recycle indoor lights of 100+ Lux as power source or it will use batteries power instead. Generally two AAA batteries could last up to three years instead of one year. Equipped with a flashing red LED light which enhances the presence of camera ...
Related Products
$34.78
SecurityMan Inc. (dba. Teklink Security Inc.) is a world wide security product designer and manufacturer dedicated to security industry. Since its founding in 1999 SecurityMan has pioneered an innovative easy-to-install simple-to-operate high-quality and competitively-priced line of video security products such as digital video recorders remote monitoring systems wireless cameras monitors etc. They have made substantial investments in design development and manufacturing resources as they knew the elements are the essentials to succeed competitively. Reliable superb quality and affordable price had to be offered to clients. Teklink Security is proud of being a member of the SIA (Security Industry Association) and a supplier of security products for users property safety-and-security. Ever increasing numbers of people are more security and safety conscious for their family and assets. Their easy-to-install surveillance products will Always watching out for you. Teklink Securitys mission is to provide users with the highest quality and most affordable price which would exceed their expectations and provide an effortless and pleasant interface for the installations to their homes and-or offices. They are achieving their mission through excellence in design manufacturing and service. The SecurityMan Dummy Outdoor-Indoor Camera with LED is designed as a professional security camera for deterring unwanted intruders by just a fraction of the cost of a real camera. It comes with a flashing red LED light which enhances the presence of the camera. It can be used to mix in with real cameras or individually to increase security presence anywhere. Includes adjustable metal mounting bracket. Powered by two AA batteries (not included). Dimension: 280 x 120 x 90mm .
$37.79
Go green with SecurityMan SM-3803 inexpensive solar dummy camera. It can be used to increase security presence for your home or business. It features energy saving designed solar panel capable of charging rechargeable batteries and conserve/extend the battery life of standard batteries (2 x AAA requires battery not included). The built-in solar panel will recycle indoor lights of 100+ Lux as power source or it will use batteries power instead. Generally two AAA batteries could last up to three years instead of one year. Equipped with a flashing red LED light which enhances the presence of camera and security. Professional designed to purposely deter unwanted intruders and solicitors with just a fraction of a cost of a real security camera. Mix in with real cameras for more dynamic presence or use individually to increase security anywhere. Features and Specifications: Weather resistant dummy camera with one flashing red LED Energy efficient built-in solar panel or 2xAAA backup standard/rechargeable batteries (not included) when it is darker Adjustable wall-mount bracket Looks like real security camera Solar charges/conserves rechargeable/standard AAA batteries Low power consumption of 0.04W Camera dimensions: 160 (L) x 80 (W) x 74mm (H) (6.30 x 3.15 x 2.91) Weight: N.W. 301g; G.W. 389g Includes: 1 x Dummy camera with solar and LED 1 x Mounting bracket and sun visor 2 x Security sign stickers Screws Accessories
$32.37
Solar Powered Dummy Camera