HarrisCommunications NT-224WHNuTone 224WH Wireless Door Strobe & Chime System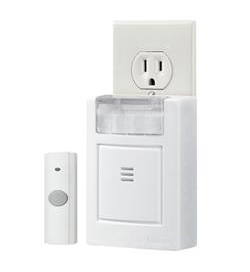 Never miss a visitor again! The NuTone 224WH Wireless Door Chime System flashes a bright strobe and plays a chime notification whenever anyone rings your doorbell. FeaturesIncredibly easy wireless installation place the battery-operated doorbell by your door and plug the strobe receiver in any room Bright flashing strobe notification 3 selectable chimes (Ding Ding Ding Dong or Westminster) Range can vary from 20 to 125 feet depending on your home?s construction (Wood and vinyl siding are ideal; metal or masonry decreases the range) Doorbell uses 1 3V lithium CR2032 battery (included) Add up to 3 strobe receivers to ...
Related Products
0.00
Features: 3.5 inch TFT screen. Automatically take photos of visitors. Monitor and don't disturb function. Wide view angle 150 degree. 6 languages, that is, English, German, French, Spanish, Chinese, Dutch in menu setting. Built-in memory which can save as many as 100pcs photos, cycle replacement. Saving-power design. DIY installation. More easy, more safe to view who is outside. 3pcs of AA battery, support to view outside for more than 1200 times. (AA Battery is excluded) Specifications: Function: Audio intercom, memory, monitor Power:DC 4.5V Color: Black Connection type: 4-core cable Viewing angle: 150¡ã Screen: 3.5 Inch LCD screen Sensor: 0.3 mega pixel high resolution No-disturb function: Support Time setting: Support Peephole barrel (diameter): 12 ~ 30mm / 0.5 ~ 1.2in Fit door thickness: 35 ~ 90mm / 1.4 ~ 3.5in Doorbell function: Support Power: 3 * AA Batteries (not included) Package List: 1 * Indoor Monitor 1 * Outdoor Camera 1 * Peephole Barrels 1 * User's Manual (English)
$66.15
Features:*Support WiFi connection, Android IOS APP remote control. Easy to install and use.*HD 720P image quality, support night vision, camera view angle covers 166.*Ultra-low power consumption, with long standby time, remote active wake up, quick start.*Rainproof: Doorbell can be installed outdoors, do not worry about being drenched by rain.*Support picture snapping and video recording function.*Support real time visual intercom with visitor, IR night view, TF card record.*Support up to 32G TF card storage(not included).*Support mobile cruise, adding multiple users or sharing with family.*With wireless doorbell chime, 52 loud ringtones optional for you.*One doorbell chime can pair with up to 8 outdoor doorbells.Doorbell
$39.99
The Doorbell of the Future Over the years we've come to expect very little from our doorbells; a single chime to alert us that someone is at the door, and nothing more. This Z-Wave-enabled Wireless Doorbell not only provides a customizable chime (choose from 11 options), but it can be integrated into your home automation system through your Go!Control Panel to perform numerous other functions when pressed. Turn your lights on with the push of a button, or set the doorbell to send you a text or email alert when the doorbell is pressed. You'll always know if you miss a visitor with this intelligent alarm. Featuring a 350-foot wireless range, this doorbell installs easily to any door. It includes a battery (and features a low-battery indicator) but it can also be hardwired in place of your current doorbell for unlimited power. And, because it's weatherproof, you won't need to worry about installing it underneath an awning or on a porch for protection. MORzA: Wireless Security and So Much More MORzA by BrickHouse Security is a fully customizable home security, alarm and automation system that can be optimized to include only the features and services you need to save money and streamline your system. When you sign up for a monitoring plan you're guaranteed to save. Call (800) 654-7966 today for a personal consultation with one of our security experts.