HarrisCommunications NT-224WHNuTone 224WH Wireless Door Strobe & Chime System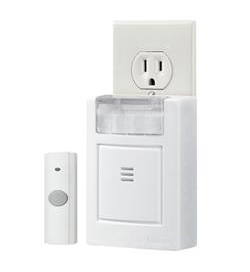 Never miss a visitor again! The NuTone 224WH Wireless Door Chime System flashes a bright strobe and plays a chime notification whenever anyone rings your doorbell. FeaturesIncredibly easy wireless installation place the battery-operated doorbell by your door and plug the strobe receiver in any room Bright flashing strobe notification 3 selectable chimes (Ding Ding Ding Dong or Westminster) Range can vary from 20 to 125 feet depending on your home?s construction (Wood and vinyl siding are ideal; metal or masonry decreases the range) Doorbell uses 1 3V lithium CR2032 battery (included) Add up to 3 strobe receivers to ...
Related Products
$24.98
This infrared motion detector alarm sounds an 80 db alarm whenever someone comes within the range of the infrared zone. The zone detection coverage is 80 degrees horizontally out to 8 meters and 20 degrees vertically. 30 second delay allows you to move out of the way before the alarm or chime becomes activated. Alarm Mode. It works by means of Passive Infrared motion sensor which it detects a moving human body within a range of 8 meters x 80 degrees. The alarm sounds automatically when any human body approaches the detected zone. 20 degree vertical coverage allows you to position the alarm so pets will not set off alarm. A siren will sound for one minute then shut off automatically and reset itself. Visitor Chime Mode. A pleasant Ding Dong melody sounds automatically to greet your visitor when they approach the detected zone. Uses 3 AA batteries not included. LED indicator on face of infrared sensor alarm lights up when batteries are low and need replacing. Installation: Mount the adjustable angle wall mount bracket in the desired location with screw and screw anchor (provided). Adjust the Mini Alert alarm to the desired detection direction and hold it in position by tightening the screw at the bracket. This infrared motion sensor alarm works great for announcing vistors to your home or to protect certain areas. The loud motion activated alarm alerts you whenever someone breaks into the detection zone. Use at home or use at the office. MINI2040 Mini Alert Alarm - Infrared Motion Sensor. Motion detector alarm sounds an 80 db alarm whenever someone comes within the range. LED indicator on face of infrared sensor alarm lights up when batteries are low. Alarm Mode and Visitor Chime Mode. Wall Mountable. Uses 3 AA batteries not included.
$26.99
The 1byone driveway alarm provides a solution to alert you the moment someone enters your property. It's not only very convenient but also extremely affordable. When movement is detected, the Passive Infrared (PIR) sensor sends a wireless signal to the receiver from up to 100m/328ft away. Adjusting the receiver, you can choose to be alerted by a high or low chime or alarm tone, or instead, with just a silent LED flash. What's more, the receiver can pair with up to 50 sensors, effectively securing a large area. We offer many combinations of sensors and receivers, just choose what best fits your needs. To avoid false alarms: Don't mount the PIR sensor in direct sunlight (as moving heat sources would trigger the PIR) or in a place affected by wind. When installing outside, it's best to mount it in a shady, protected place with minimal changing temperatures. Also, avoiding mounting on UPVC or metal doorframe surfaces which may reduce the transmission range. Specifications:Power Supply (Receiver): DC 6 V or 1.5 V C Battery x 3 (not included) Power Supply (PIR Transmitter): DC 4.5 V (1.5 V AAA Battery x 3 )(not included) Motion detecting range: 5 - 8 m/16-26ftOperating range: 100m/328ft Ring Volume: ≥100dB ( within 0.5 m/1.6ft) Box Contents:2 x PIR Transmitters 1 x Receiver 1 x Instruction Manual4 x Wall Plugs 4 x Screws Here at 1byone, we stand by our products 100% with a 24-month warranty. A happy purchasing experience is our #1 priority and we will happily send a product replacement if any issues arise.