HarrisCommunications NT-224WHNuTone 224WH Wireless Door Strobe & Chime System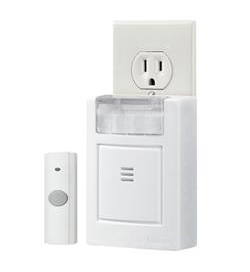 Never miss a visitor again! The NuTone 224WH Wireless Door Chime System flashes a bright strobe and plays a chime notification whenever anyone rings your doorbell. FeaturesIncredibly easy wireless installation place the battery-operated doorbell by your door and plug the strobe receiver in any room Bright flashing strobe notification 3 selectable chimes (Ding Ding Ding Dong or Westminster) Range can vary from 20 to 125 feet depending on your home?s construction (Wood and vinyl siding are ideal; metal or masonry decreases the range) Doorbell uses 1 3V lithium CR2032 battery (included) Add up to 3 strobe receivers to ...
Related Products
$14.26
The two-piece STI Knock Knock Door Chime allows you to hear a visitor knocking at your door from anywhere in your home. The small sensor mounts on the inside of your door with screws or double-sided tape while the wireless receiver can be placed up to 100 feet away. When someone knocks the sensor will detect the vibration and signal the receiver to alert you by chiming. Contents:Sensor. Receiver. Screws. Double-Sided Tape. Specifications:Range - Up to 100 feet from door.
$79.88
Features:*HD 1080P(1920*1080) image quality,camera view angle covers 166,showing your clear image of the outdoor environment.*6pcs IR leds for support night vision,IR distance is up to 5 meters.*2pcs 18650 batteries or USB charging for power supply,ultra-low power consumption,working length time is about 6 months.*Support picture snapping and video recording function,real time visual intercom with visitor,TF card record(TF card is not included).*With motion detection sensor,when some objects move in front of the device,it will trigger signal to the phone.*Wireless doorbell kit with one WiFi doorbell and one outdoor doorbell chime,52 ringtones optional for you.Easy to pair with the doorbell,easy for installation,more convenient and safe for using.*With indicator lights to show you different states of the doorbell,such as blue lights means that the system is in normal working condition.
0.00
This wireless doorbell kit is easy and convenient to use. It do not need to change batteries and arrange any wires for installation. The transmitter has many characteristics, such as durable to use, waterproof, high-temperature and low-temperature resistant. It has 36 ring tones for you to choose and has low crosstalk rate. Features: Easy to install with the double side adhesive tape and the screws. You can install the doorbells in locations, such as kitchen, back yard, bedroom, etc. Color: White PVC material 36-melody selectable Alarm level: 25-80dB Powered by 3 x AAA batteries (not included)