PyleHome PIPCAM8 Indoor Wireless IP Camera for Surveillance Security Monitoring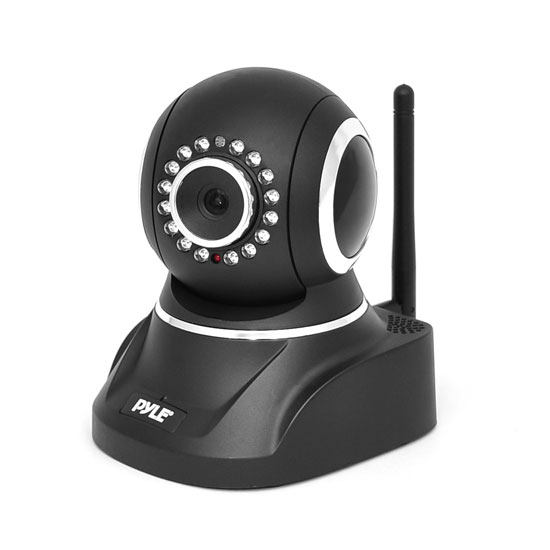 The Pyle PIPCAM8 Smart Digital Camera and Recording System with Wi-Fi is easy to set up and operate. Make wireless surveillance simple and readily available where necessary. Connect the camera system to your wired or wireless modem and monitor the situation. Whether used at home or at work to add an extra line of security or just monitoring pets while away you?ll now have the ability to access high-quality video surveillance that is viewable from any location. Download the free 'Pyle IP Cam' app to unlock more features. Use it with the Included remote viewing software to ...
Related Products
0.00
This splash proof and waterproof camera lets you capture awesome extreme sports on the go. The compact tube design makes it easily portable and easy to mount. Built-in flash memory stores your video in motion JPEG/WAV format. It's even got an advanced night vision sensor for night footage. Uses a built in rechargeable battery so you never need to replace it. Encodes video at 640x480 resolution - 1.3 megapixels - at 25 to 30 FPS.
$113.09
The Pyle Dash Cam is a versatile HD dashboard driving camera. It mounts to your windshield and the adjustable camera lens records your driving. The compact & convenient system is easy-to-use mounts quickly and records hi-res video in full color even when you're not in the vehicle. The unique 'Impact Parking Monitor Mode' will automatically power on and record if the system senses an impact while you're out grocery shopping. Keep yourself protected and provide the proof when necessary whether on the road or parked in the lot. System features include 2.0'' Digital LCD Display Micro SD Memory Card Slot Built-in Rechargeable Battery Microphone for Audio Recording Night Vision and much more! It's all powered by the included cigarette lighter power outlet cable or can be charged via USB port. Connect it to computer for easy file saving & sharing. Snap crisp hi-res images record full color HD 1080p video to drive safer and smarter with the Pyle Dash Cam HD Driving Camera System. FeaturesUltra High Resolution 1080p Picture Output Snap Pictures & Record Video Unique 'Impact / Parking Monitor Mode' Function (Automatically Records Impact While Away) Built-in 2.0'' Digital LCD Display Night Vision / Low Light Illumination WDR (Wide Dynamic Range) Cam Lens Technology Built-in Rechargeable Battery (3 Hour Battery Life) Universal Windshield Mount: Double-Sided Adhesive Compact Convenient & Easy to Use Front Panel Button Controls Micro SD Card Memory Slot Connect to PC: Easy File Transfer Save & Share Tilt Adjustable Camera Lens Angle Built-in Microphone for Audio Recording Loop Recording & Motion
0.00
Record Video & Capture Images - Night Vision Image Capture up to 45' Feet Away Invisible Flash Sees in Complete Darkness for 24-Hour Game Scouting PIR Motion Detector Sensor - Water Resistant Housing - Camouflage Design Pattern Images: Choose 8 or 5 Mega Pixels - Video: (VGA) 640 x 480 Pixels at 30 fps SD Memory Card Slot - Quickly Transfer Files to PC and Share - Requires 4 x 'AA' Batteries