PyleHome PIPCAM8 Indoor Wireless IP Camera for Surveillance Security Monitoring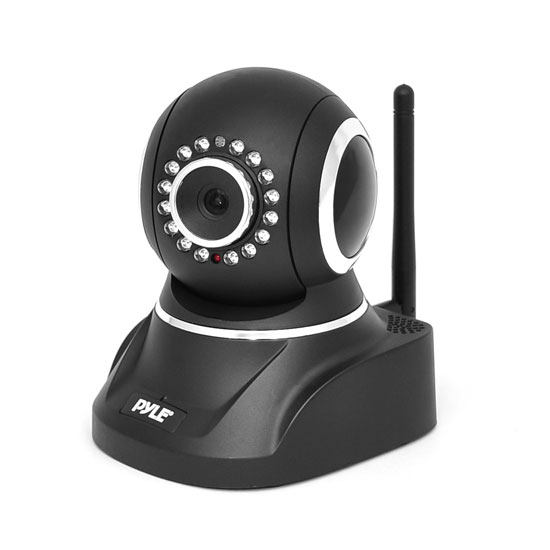 The Pyle PIPCAM8 Smart Digital Camera and Recording System with Wi-Fi is easy to set up and operate. Make wireless surveillance simple and readily available where necessary. Connect the camera system to your wired or wireless modem and monitor the situation. Whether used at home or at work to add an extra line of security or just monitoring pets while away you?ll now have the ability to access high-quality video surveillance that is viewable from any location. Download the free 'Pyle IP Cam' app to unlock more features. Use it with the Included remote viewing software to ...
Related Products
$11.48
The Pyle PSWLB62 Universal TV Wall Mount safely and securely holds virtually any TV from 10'' to 32''.  Full motion wall mount allows you to tilt and turn your TV into the desired position.  Universal bracket hole pattern allows for maximum compatibility plus quick and easy installation. Max load capacity: 44 lbs.
$19.99
* 19'' Adjustable Gooseneck Mount * For Use With Any Monitor or speaker and With 1/4" Slide Bracket * To Hang On Wall Speakers * Fully Adjustable Arm
$167.69
FeaturesWireless IP Camera & WiFi with Remote Surveillance Monitoring High-resolution full HD video recording Smart digital camera system for surveillance and monitoring Monitor the location remotely and control via the Pyle IP Pro app Connects with your smartphone tablet laptop computer etc WiFi wireless network connection ability Can be hard-wired and mounted LAN and Ethernet cable Pan and tilt camera lens control Night vision LED illumination lights Motion detector mode Flip screen ability for upside-Down mounting Includes IP camera viewer software SpecificationsColor: White Weight: 2 lbs