Viking Electronics E-20B-EWP Speakerphone E-20B w/ EWP GRAY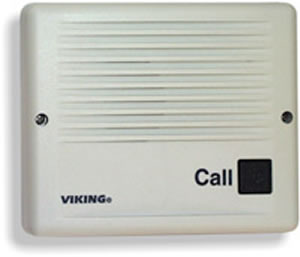 Speakerphone E-20B w/ EWP GRAY - Viking outdoor speakerphone with EWP- Provides convenient handsfree communication - Telephone line powered speakerphones designed to provide two way handsfree communication- When call button is pressed the unit will come off-hook and will remain off-hook until a CPC signal is detected the programmed timeout has elapsed a busy signal is detected or the call goes silent making the unit automatically disconnect- Can be connected directly to a C.O. line or analog PABX/KSU station when programmed as a ringdown circuit or used with a Viking hot-line dialer. If a line or ...
Related Products
$35.91
features in P2P plug and play, and it's equipped with 10 pieces infrared LED lights, and IR-CUT double filter, which provides with good day and night vision. It is also with functions of motion detection, two way audio monitoring, cloud storage and phone APP control, etc. It supports viewing by PC client, phone APP, and mobile devices can remote view anywhere anytime. It's a good choice for home, shop, office and other needed places.Features:*1/4 CMOS sensor, WiFi camera.*Support pan tilt rotation, 0~350 horizontal and 0~110vertical viewing angle, wide monitoring area.*With 10 pcs infrared lamps, can get clear images at night, night vision distance up to 8m.*IR-CUT double filter. Auto switch between day and night, restoring clear true color.*Multiple ways to access on the PC and phone, can be viewed by PC client, phone APP.*For Android/iOS mobile devices remote monitor anywhere anytime, 24h real-time online working.*Built-in MIC and speakers, two way audio monitoring.*Motion detection function. The camera will be triggered to snapshot when detect something moving, and it will push notification to your phone APP.*Auto upload the alarm or timing photos to cloud storage accounts of Dropbox (2G) or for Google Drive (16G) for free.*Privacy security: log in for the first time, it will compulsively request to change user name and password, and all the transmission information between camera and APP/PC uses security encryption, prevent Hacker and rascal software from invasion.*Wired LAN cable or WIFI connection optional.*P2P cloud function, peer to peer connection, no need port mapping.*H.264 video compression, higher definition image and lower bit rate.
$100.89
Sricam SP012 IP Camera WIFI Onvif P2P Phone Remote 720P Home Security Baby Monitor 1.0MP Wireless Video Surveillance Camera (Black)
$109.49
Features:*2.4'' TFT LCD screen display and voice prompt for all operations. Support external wired siren, with squealing alarm sound.*WIFI+GSM alarm system with phone APP easily remote control. Including remote arm/disarm, parameter setting and accessory management. Push arm/disarm message to APP. (Note: APP for Android and IOS system.)*Support SMS and dialing alarm. Support 5 groups preset alarm phone numbers, SMS on/off and dial on/off can be set respectively.*Can remote arm or disarm by phone, and with intercom and voice monitoring function.*Multiple types of arm: Away arm, home arm, remote control arm, and remote telephone arm.*Support up to 100 wireless defense zones for remote control, RFID cards and wireless detectors. (You can add / delete remote control / wireless detector / RFID card as you need.)*Support system password and user password, when alarm is triggered, only can be disarmed by putting user password. Coercion password, secretly make calls in emergency.*Timing arm and disarm. Multi-language menu display. (Chinese,English,German,French,Russian,Polish,Italian,Spanish,8 kinds of languages optional)*Users can make calls by using keypad on alarm panel, just like a telephone.*Can store and inquire daily operation records and alarm records. Can record 20 seconds voice message and alarm voice.*RFID function for house care or kids usage, it's convenient for them to disarm without knowing password.*In emergency, press the SOS button on the remote controller, the system will start to alarm and call the preset phone numbers automatically for help.*Built-in Lithium rechargeable battery: still can make alarm when power off.