Viking Electronics E-20B-EWP Speakerphone E-20B w/ EWP GRAY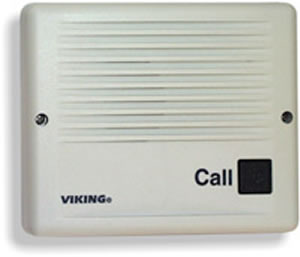 Speakerphone E-20B w/ EWP GRAY - Viking outdoor speakerphone with EWP- Provides convenient handsfree communication - Telephone line powered speakerphones designed to provide two way handsfree communication- When call button is pressed the unit will come off-hook and will remain off-hook until a CPC signal is detected the programmed timeout has elapsed a busy signal is detected or the call goes silent making the unit automatically disconnect- Can be connected directly to a C.O. line or analog PABX/KSU station when programmed as a ringdown circuit or used with a Viking hot-line dialer. If a line or ...
Related Products
$39.38
Features:*1.0 Megapixel CMOS sensor, 720P high definition, maximum image resolution is up to 1280*720P/25fps.*Support Pan tilt rotation, 0~355 horizontal and 0~120 vertical viewing angle, wide monitoring area.*Smart Link: Network setup with wifi, unplug the ethernet cable. All setup are via Phone APP.*Multiple ways to access on the PC and mobile phone. APP support for Android/iOS mobile devices remote view anywhere at anytime.*With 11pcs infrared lamps, IR night vision distance is up to 15m.*IR-CUT double filter. Auto switch between day and night, restoring clear true color.*Built-in Mic Speaker. Supports two-way audio. Easily communicate with your Family even if you are not at home. *Build in WiFi module, support 802.11b/g/n.*Motion detection function. The camera will be triggered to record and push notification when detects something moving.*Support TF card up to 128G for video and picture storage. (TF Card is not included, 128GB TF card can be recorded up to 35 days.) *Standard H.264 video compression algorithm to satisfy the transmission of high definition video. *Support P2P (point to point) technology, the IP Cam can be linked through the internet without any complicated port mapping.
$132.07
Features:*With doorbell function.*Timing arm and disarm.*Support SMS and dialing alarm.*Smart 3G alarm system with APP, including remote arm / disarm, parameter setting and accessory management. ( Note: No Wifi Function )*Remote operation and settings by SMS APP. (APP for Android and IOS system)*LCD screen display and voice prompt for all operations.*Support up to 100 wireless defense zones for remote control or RFID cards or wireless detectors. ( You can add / delete remote control / wireless detector / RFID card as you need. )*Support 5 groups preset alarm phone numbers, SMS on / off and dial on / off can be set respectively for each phone number.*Users can make calls by using keypad on alarm panel, just like a telephone.*Can record 20 seconds alarm voice.*Support system password and user password, when alarm is triggered, only can be disarmed by putting user password, prevent intruder from disarming. Coercion password, secretly make calls in emergency.*Digital sensitive touch keyboard, fashion novelty.*Multiple types of arm: Remote control arm, out arm, home arm, timed arm.*Support external wireless wired siren, with squealing alarm sound.*Can store and inquire daily operation records and alarm records.*SMS prompt automatically about low power of battery.*SMS prompt when AC power lost or recovered.*English, German, Chinese three languages optional.*Intercom and monitoring function.
$281.55
Features:*Consist of 4CH Channel Full 1080N DVR +4*1080P AHD IR CCTV Camera + 4*60ft Surveillance Cable for CCTV security system.*DVR/HVR/AVR 3-in-1 function, support both 1080P AHD camera and 1080P IP camera input.*Onvif protocol standards, compatible with various Onvif IP cameras (need Onvif2.1 and above).*P2P cloud service for Android/iOS mobile devices remote view anywhere anytime.*Motion detection record. The DVR will be triggered to record when detect something moving. NO trigger, no record, more intelligent and space-saving.*Support motion detection record and push notifications.*Multiple ways to access on the PC, phone and pad, can be viewed by PC client, Phone APP and IE browser.*This DVR default VGA resolution is 1280*1024, so we suggest you to use the monitor with 1280*1024 or higher resolution for normal use.*Widely used at home, shopmarket, office and other surveillance needed places.DVR