Viking Electronics E-20B-EWP Speakerphone E-20B w/ EWP GRAY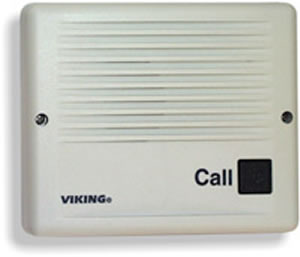 Speakerphone E-20B w/ EWP GRAY - Viking outdoor speakerphone with EWP- Provides convenient handsfree communication - Telephone line powered speakerphones designed to provide two way handsfree communication- When call button is pressed the unit will come off-hook and will remain off-hook until a CPC signal is detected the programmed timeout has elapsed a busy signal is detected or the call goes silent making the unit automatically disconnect- Can be connected directly to a C.O. line or analog PABX/KSU station when programmed as a ringdown circuit or used with a Viking hot-line dialer. If a line or ...
Related Products
$152.29
Features:¡¾Versatile Full HD¡¿High quality versatile Full HD 960P WiFi camera, 1.3 Megapixels live video for no matter day and pitch dark. Attached with mounting bracket, 360 rotation, giving you the whole view of your place.¡¾Quick WiFi Setup¡¿Support remote monitoring and playback on mobile phone and PC. Extremely quick one-step setup via QR code configuration, Live View Stream Video and Two Way Audio Directly to Your iPhone/Android Smartphone APP or Pad anywhere anytime. You will never miss a moment.¡¾Invisible IR leds¡¿Enhanced with 4pcs invisible IR leds for a clear night vision(led light not light up in use), effectively hidden while giving you fantastic night experience, you will never be in dark.¡¾Advanced Motion Detection¡¿Built-in PIR motion sensor, receive instant APP alert when the camera detects abnormity or alarm is triggered.¡¾Loop Recording¡¿Supports up to 64GB TF card(not included) for loop recording video. Widely used in the corner of home, office, warehouse, store, backyard, garden, etc.¡¾Long Standby Time¡¿Built-in 3000mAh polymer lithium battery, long low power standby, fully charged, it can standby for about 90 days, also can record and charge at the same time, never worry about running out of batteries.
$92.66
Features:*Timing arm and disarm.*Support SMS and dialing alarm.*Smart GSM+PSTN alarm system with APP, including remote arm / disarm, parameter setting and accessory management. (Note: No Wifi Function)*Remote operations and settings by SMS APP. (APP for Android and IOS system.)*It supports phone remote control, including arming, disarming, monitoring and intercom with the alarm host.*LCD screen display and voice prompt for all operations; Support external wired siren, with squealing alarm sound.*Support 1 wired defense zone and 99 wireless defense zones for remote control or wireless detectors. ( You can add / delete remote control / wireless detector as you need. )*Support 6 alarm phone numbers and 2 SMS alarm mobile numbers.*Users can make calls by using keypad on alarm panel, just like a telephone.*Coercion password, secretly make police calls in emergency.*Digital sensitive touch keyboard, fashion novelty.*Multiple types of arm: Remote control arm, out arm, home arm, timed arm, delayed arm.*Can store and inquire alarm records.*Built-in re-chargeable battery for the back-up of power failure.*SMS prompt when AC power lost or recovered.
$625.00
Spy-MAX Security Products Fire Strobe Light Cell Phone Messenger (MMS) Surveillance Camera, Includes Free eBook Type: Security & Motion Specifications: Hang on the wall, posing as a normal Fire Strobe Light. Sends MMS images to phone whenever somebody walks in to the room. Simple to install and easy to setup. 5 Snapshot pictures will be sent in 1 seconds increments as long as the each motion is being detected by the camera. Connects with GSM/GPRS network. Transmits and receives data via SMS and transmits image data through GPRS. Wireless terminal. Motion detection. Backup lithium battery ensures constant operation if external power failure. Remote control by mobile phone or management system. Receive the SMS & images alarm by mobile phone, E-mail or management system. IR LEDs(optional, not available for all the Models), professional cameras 24 hours monitoring, timed monitoring. Dual-detection technology, including PIR (Passive Infrared) Body Detector and camera motion de...