MacAlly DmountCar Dash Mount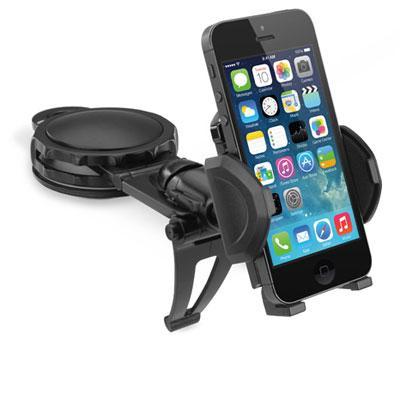 SecurityMan Inc. (dba. Teklink Security Inc.) is a world wide security product designer and manufacturer dedicated to security industry. Since its founding in 1999, SecurityMan has pioneered an innovative, easy-to-install, simple-to-operate, high-quality and competitively-priced line of video security products, such as digital video recorders, remote monitoring systems, wireless cameras, monitors, etc. We have made substantial investments in design, development and manufacturing resources, as we knew the elements are the essentials to succeed competitively. Reliable, superb quality and affordable price had to be offered to our clients. We are proud of being a member of ...
Related Products
$35.91
features in P2P plug and play, and it's equipped with 10 pieces infrared LED lights, and IR-CUT double filter, which provides with good day and night vision. It is also with functions of motion detection, two way audio monitoring, cloud storage and phone APP control, etc. It supports viewing by PC client, phone APP, and mobile devices can remote view anywhere anytime. It's a good choice for home, shop, office and other needed places.Features:*1/4 CMOS sensor, WiFi camera.*Support pan tilt rotation, 0~350 horizontal and 0~110vertical viewing angle, wide monitoring area.*With 10 pcs infrared lamps, can get clear images at night, night vision distance up to 8m.*IR-CUT double filter. Auto switch between day and night, restoring clear true color.*Multiple ways to access on the PC and phone, can be viewed by PC client, phone APP.*For Android/iOS mobile devices remote monitor anywhere anytime, 24h real-time online working.*Built-in MIC and speakers, two way audio monitoring.*Motion detection function. The camera will be triggered to snapshot when detect something moving, and it will push notification to your phone APP.*Auto upload the alarm or timing photos to cloud storage accounts of Dropbox (2G) or for Google Drive (16G) for free.*Privacy security: log in for the first time, it will compulsively request to change user name and password, and all the transmission information between camera and APP/PC uses security encryption, prevent Hacker and rascal software from invasion.*Wired LAN cable or WIFI connection optional.*P2P cloud function, peer to peer connection, no need port mapping.*H.264 video compression, higher definition image and lower bit rate.
CAD68.99
Ubuntu Unleashed 2016 Edition is filled with unique and advanced information for everyone who wants to make the most of the Linux-based Ubuntu operating system. This new edition has been thoroughly revised and updated by a long-time Ubuntu community leader to reflect the exciting new Ubuntu 15.10 while including tons of information that will continue to apply to future editions. Former Ubuntu Forum administrator Matthew Helmke covers all you need to know about Ubuntu 15.10 installation, configuration, productivity, multimedia, development, system administration, server operations, networking, virtualization, security, DevOps, and more?including intermediate-to-advanced techniques you won?t find in any other book. Helmke presents up-to-the-minute introductions to Ubuntu?s key productivity and Web development tools, programming languages, hardware support, and more. You?ll find new or improved coverage of Ubuntu?s Unity interface, various types of servers, software repositories, database options, virtualization and cloud services, development tools, monitoring, troubleshooting, Ubuntu?s push into mobile and other touch screen devices, and much more. Configure and customize the Unity desktop Get started with multimedia and productivity applications, including LibreOffice Manage Linux services, users, and software packages Administer and run Ubuntu from the command line Automate tasks and use shell scripting Provide secure remote access and configure a secure VPN Manage kernels and modules Administer file, print, email, proxy, LDAP, DNS, and HTTP servers (Apache, Nginx, or alternatives) Learn about new options for managing large numbers of servers Work with databases (both SQL and the newest NoSQL alternatives) Get started with virtualization Build a private cloud with Juju and Charms Learn the basics about popular programming languages including Python, PHP, Perl, and new alternatives such as Go and Rust Learn about Ubuntu?s work toward usability on touchscreen and phone devices Ubuntu 15.10 on DVD DVD includes the full Ubuntu 15.10 distribution for 64 bit computers (most desktop and notebooks systems today) as well as the complete LibreOffice office suite and hundreds of additional programs and utilities. Free Upgrade! Purchase this book and receive a free Ubuntu 16.04 Kick Start chapter after Ubuntu 16.04 is released. See inside back cover for details.
$8.41
Use Your Handheld To Access Your PC From Anywhere! Product Information Pocket Retriever is an application for handhelds running the Palm OS allowing you to remotely access your desktop PC. Use Pocket Retriever on your handheld with a standard modem or data-enabled cellular phone and no matter where you are youll be connected to the entire contents of your home or office PC. Dont ever get caught without important information again!Pocket Retriever lets you view virtually any text file format or picture including the most popular image files on your handheld computer. Search your hard drive and download any file (up to 64K) not just pre-selected ones. Then beam e-mail or upload your files to other PCs or handhelds. Modify your text files on the road and store the modified files back on your PC. In addition Pocket Retriever allows you to remotely install handheld applications documents and databases. You can even use Pocket Retriever to monitor remote cameras interfacing seamlessly with a PC-based home security system. Pocket Retriever puts your PC hard drive at your fingertips. Product Features Easily and quickly access files form your PC using your handheld Read and modify converted text then save it on your PC Beam or upload files to other handhelds or PCs Download and view most popular image formats Use your handheld as a floppy to transfer files in PC format (up to 64K) Remotely install handheld applications documents and databases Monitor remote cameras Send major files from your PC to handheld for easy reference and viewing