MacAlly DmountCar Dash Mount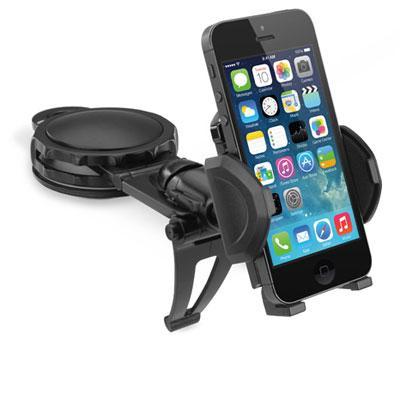 SecurityMan Inc. (dba. Teklink Security Inc.) is a world wide security product designer and manufacturer dedicated to security industry. Since its founding in 1999, SecurityMan has pioneered an innovative, easy-to-install, simple-to-operate, high-quality and competitively-priced line of video security products, such as digital video recorders, remote monitoring systems, wireless cameras, monitors, etc. We have made substantial investments in design, development and manufacturing resources, as we knew the elements are the essentials to succeed competitively. Reliable, superb quality and affordable price had to be offered to our clients. We are proud of being a member of ...
Related Products
$92.66
Features:*Timing arm and disarm.*Support SMS and dialing alarm.*Smart GSM+PSTN alarm system with APP, including remote arm / disarm, parameter setting and accessory management. (Note: No Wifi Function)*Remote operations and settings by SMS APP. (APP for Android and IOS system.)*It supports phone remote control, including arming, disarming, monitoring and intercom with the alarm host.*LCD screen display and voice prompt for all operations; Support external wired siren, with squealing alarm sound.*Support 1 wired defense zone and 99 wireless defense zones for remote control or wireless detectors. ( You can add / delete remote control / wireless detector as you need. )*Support 6 alarm phone numbers and 2 SMS alarm mobile numbers.*Users can make calls by using keypad on alarm panel, just like a telephone.*Coercion password, secretly make police calls in emergency.*Digital sensitive touch keyboard, fashion novelty.*Multiple types of arm: Remote control arm, out arm, home arm, timed arm, delayed arm.*Can store and inquire alarm records.*Built-in re-chargeable battery for the back-up of power failure.*SMS prompt when AC power lost or recovered.
$63.97
Features:¡¾HD 1080P Camera¡¿High definition video allows you to discover the details in pristine colors and smooth on-screen movements. 350-degree pan and 90-degree tilts to give a large angle monitor.¡¾WIFI Accessibility¡¿The sturdy WIFI feature allows the camera to be accessed and controlled remotely via mobile devices.¡¾Two-Way Audible¡¿Built-in microphone and speaker provide advanced noise reduction that allows you to listen and talk to the surveillance without interference,you can talk to your family with clear sound quality whenever and wherever you are.¡¾Night vision¡¿With 12pcs IR lamps, can get clear images at night, night vision distance up to 10m.¡¾Motion detection¡¿Motion detection function. When the camera detects something moving, it will push notification to your phone APP.
$394.46
Speakerphone E-20B w/ EWP GRAY - Viking outdoor speakerphone with EWP- Provides convenient handsfree communication - Telephone line powered speakerphones designed to provide two way handsfree communication- When call button is pressed the unit will come off-hook and will remain off-hook until a CPC signal is detected the programmed timeout has elapsed a busy signal is detected or the call goes silent making the unit automatically disconnect- Can be connected directly to a C.O. line or analog PABX/KSU station when programmed as a ringdown circuit or used with a Viking hot-line dialer. If a line or station is not available Viking`s DLE-200B ring down circuit can be used- 1-4 speakerphones can share an existing phone line in a house or small business when used with a Viking C-2000A (respectively) Entry Phone Controller- Enhanced weather protection - Rubber gaskets and boots closed cell foam gasketing hand soldered silicon sealed connections anti-corrosive gel filled tip and ring connectors as well as urethane encapsulated circuit boards with internally sealed field-adjustable trim POTS and DIP switches- Applications: commercial industrial and residential door security door or gate communication business delivery entrances - Use in conjunction with a Viking K-1900-5 Dialer on C.O. lines or analog PABX/KSU stations - Use on any programmed ringdown circuit of an analog PABX/KSU station - Alternate action call button to place or cancel a call - Intelligent call progress detection for automatic hang-up on CPC silence busy signal or time out - Telephone line powered - Weather resistant features: mylar speaker gaskets internally sealed push button switch UV stable exterior enamel coated PCB - Adjustable microphone and speaker volume - Programmable maximum call length - Selectable auto-answer feature allows remote monitoring - Two way handsfree communication - Programmable VOX (mic/speaker) switching speed - Impact resistant U.V. stable plastic chassis