Macally Car17U 17w 2 Usb Port Car Charger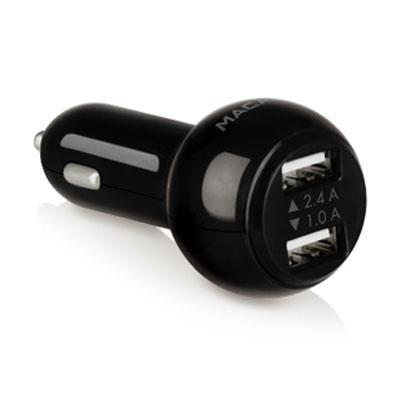 SecurityMan Inc. (dba. Teklink Security Inc.) is a world wide security product designer and manufacturer dedicated to security industry. Since its founding in 1999, SecurityMan has pioneered an innovative, easy-to-install, simple-to-operate, high-quality and competitively-priced line of video security products, such as digital video recorders, remote monitoring systems, wireless cameras, monitors, etc. We have made substantial investments in design, development and manufacturing resources, as we knew the elements are the essentials to succeed competitively. Reliable, superb quality and affordable price had to be offered to our clients. We are proud of being a member of ...
Related Products
$92.66
Features:*Timing arm and disarm.*Support SMS and dialing alarm.*Smart GSM+PSTN alarm system with APP, including remote arm / disarm, parameter setting and accessory management. (Note: No Wifi Function)*Remote operations and settings by SMS APP. (APP for Android and IOS system.)*It supports phone remote control, including arming, disarming, monitoring and intercom with the alarm host.*LCD screen display and voice prompt for all operations; Support external wired siren, with squealing alarm sound.*Support 1 wired defense zone and 99 wireless defense zones for remote control or wireless detectors. ( You can add / delete remote control / wireless detector as you need. )*Support 6 alarm phone numbers and 2 SMS alarm mobile numbers.*Users can make calls by using keypad on alarm panel, just like a telephone.*Coercion password, secretly make police calls in emergency.*Digital sensitive touch keyboard, fashion novelty.*Multiple types of arm: Remote control arm, out arm, home arm, timed arm, delayed arm.*Can store and inquire alarm records.*Built-in re-chargeable battery for the back-up of power failure.*SMS prompt when AC power lost or recovered.
$61.63
Features:*HD 720P 1.0 Megapixels CMOS sensor,WiFi camera.Built-in MIC and speakers, two way audio monitoring.*Support pan tilt rotation, 0~355 horizontal and 0~155 vertical wide view angle,no blind area letting the whole room under your eyes to keep what you care safe for your shop/office/home/baby/pet,etc.*With 2pcs array IR lamps,can get clear images at night,night vision distance up to 10m.IR-CUT double filter. Auto switch between day and night, restoring clear true color.*With external TF card slot,which adds much convenience for inserting the card,up to 64G,not included.*Remote monitoring: You can check your home condition remotely via smart phone (for Android/IOS ) or tablet if only there is internet connection,no matter where you are.*Motion detection function. The camera will be triggered to push notification to your phone APP.*H.264 video compression,higher definition image and lower bit rate.*Easy setup and flexible compatibility.Plug and play, no need complex installation.
$478.41
Features:*WIFI NVR kit contains 1pcs 1080P NVR + 4pcs 1080P IP cameras, FHD 1080P video record and playback.*NVR and monitor all-in-one, with 10.1'' LCD screen, no need to connect extra monitor, simplify installation process, and more cost saving.*Multiple ways to access on the PC, phone and pad, can be viewed by PC client and IE browser. Support for Android/iOS Phone APP remote view anywhere anytime.*Motion detection recording. The NVR will be triggered to record when detect something moving. NO trigger, no record, more intelligent and space-saving.*Enhanced WIFI antenna for both camera and NVR(built-in), stronger signal, play and plug in. WIFI connection, no cable needed.*P2P, Waterproof, IR night view, Remote playback, Digital zoom.NVR