Macally Car17U 17w 2 Usb Port Car Charger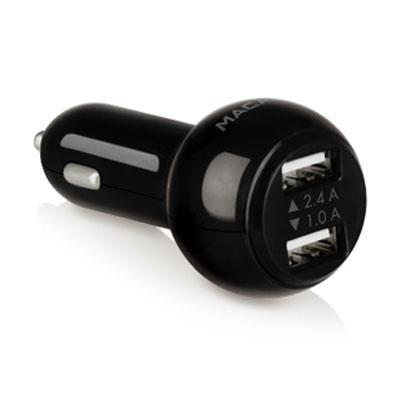 SecurityMan Inc. (dba. Teklink Security Inc.) is a world wide security product designer and manufacturer dedicated to security industry. Since its founding in 1999, SecurityMan has pioneered an innovative, easy-to-install, simple-to-operate, high-quality and competitively-priced line of video security products, such as digital video recorders, remote monitoring systems, wireless cameras, monitors, etc. We have made substantial investments in design, development and manufacturing resources, as we knew the elements are the essentials to succeed competitively. Reliable, superb quality and affordable price had to be offered to our clients. We are proud of being a member of ...
Related Products
$98.71
Features:You can monitor environment of your house via mobile phone whether you at home or not.The doorbell has alarm and mobile monitoring function, protect your home safety effectively, reduce your worried.Support night vision function, can clearly distinguish visitors.(Night visibility up to 5 meters )Can support 5 devices connecting at same time.You can help your family and friends open the door when you in other places.High technology, remote control, excellent performance and high reliability.Clear night-viewing, 24 hours monitoring, calling, speaking and unlocking remote controlling, etc.Can take photos by itself and you can see them from your phone.Support 64GB TF Card, you can watch video playback anytime.With a wireless indoor reminding device 433MHz Indoor Chime, can help you remind visitors.Surveillance camera send alert automaticly.See,hear and talk to visitor on smartphone, any where, any time.Note:433MHz Indoor Chime and Door Bell must connect wireless to work.Only for Android 4.0 IOS 7.0 or Above smartphone.
$51.79
Features:*HD 1080P 2.0 Megapixels CMOS sensor, WiFi camera.*Built-in MIC and speakers, two way audio monitoring.*Support pan tilt rotation, 0~355 horizontal and 0~120 vertical viewing angle, wide monitoring area.*Remote monitoring: You can check your home condition remotely via smart phone (for Android/IOS ) or tablet if only there is internet connection, no matter where you are.*Support multiple display modes(traditional mode, mixed mode, corridor three-dimensional picture scroll mode and panoramic inversion mode).*Support remote playback. Support hundreds of people online monitoring at the same time.*With 4pcs array IR lamps, can get clear images at night, night vision distance up to 10m.*IR-CUT double filter. Auto switch between day and night, restoring clear true color.*Motion detection function. The camera will be triggered to push notification to your phone APP.*Support cloud storage. Support up to 64G TF card storage (not included).*H.264 video compression, higher definition image and lower bit rate.*With three enhanced WiFi antennas, providing strong and stable signal.*Plug and play, no need complex installation.
$77.99
Features:* With dual network of GSM + telephone cable, the System is more secure and reliable.* With the quad-band GSM module for global use.* Includes 2 wired zones and 99 wireless zones.* Supports code pairing with 8 wireless remote controllers at the most.* LCD screen with a built-in clock.* With voice prompts for easy operations.* Supports 3 groups of timed arming and 3 groups of timed disarming.* The main device can dial alarm calls to 6 preset phone numbers.* The main device can send text alarm to 3 preset phone numbers.* With 10-second manual recording function to leave messages.* With built-in SMS service to send alarm messages automatically.* Includes multiple zone programming functions like Real-Time, Delay, 24 Hour, Bypass.* With Wireless Self-learning Code Pairing, new accessories can be installed conveniently, safely and effectively.* Off-site remote control allows Main Device Arming, Disarming, Monitoring, Intercom etc.