Ankaka C50115 HD 1080P H.264 Wifi IR E27 Bulb CCTV Camera DVR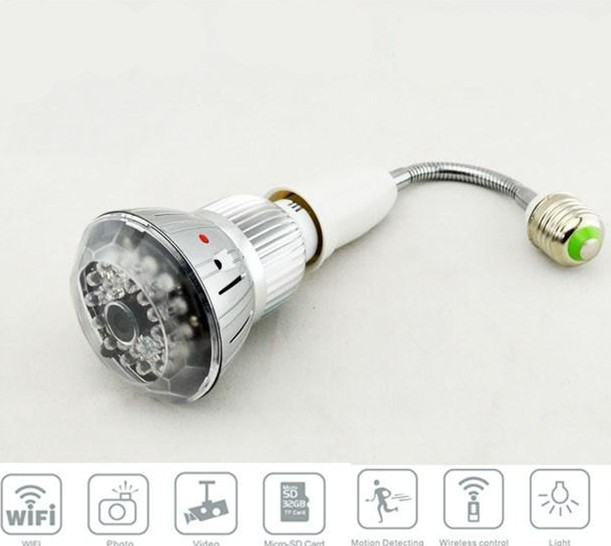 FeaturesHD 1080P H.264 Wifi IR Bulb Camera. E27 Bulb CCTV Camera DVR. Support remote monitoring by Android and iOS. Cycle Video Recording and Automatic Covering. With 36x F5 fluorescent lamp for night vision. Support max 32GB TF card. SpecificationVideo format - AVI. Compressed format - H.264. Video Resolution - 1080P 720P 640P 480P selectable. Frame - 25 fps. Pixel - 12 MP CMOS. View angle - 160 degrees. Lamp - 36x F5 fluorescent lamp. Motion Detection Distance - 6m straight-line. Minimum illumination - 1LUX. Audio range - 5 square meters. Recording time - Above 24 hours. Power consumption - 260MA/3.7V. Memory card - Support external TF card max ...
Related Products
$152.16
Features:*Consist of 4CH Channel Full 1080N AHD DVR HVR NVR+4*1500TVL Waterproof CCTV Bullet Camera + 4*60ft Surveillance Cable for CCTV security system.*Support 4-ch 1080P AHD cameras input and 4-ch sync playback (960*1080)*NVR CVI TVI HVR AHD 5-in-1 function, support both AHD camera and analog camera input.*P2P cloud service for Android/iOS mobile devices remote view anywhere anytime.*Support motion detection record and push notification. The DVR will be triggered to record when detect something moving. NO trigger, no record, more intelligent and space-saving.*Multiple ways to access on the PC, phone and pad, can be viewed by PC client, Phone APP and IE browser.*Support 3.5 inch SATA port hard drive, capacity about 500G/1.5T/2T/3T, and less than 500G is not supported.*This DVR default VGA resolution is 1280*1024, so we suggest you to use the monitor with 1280*1024 or higher resolution for normal use.DVR
CAD24.95
Masaharu Aoyagi, a former delivery-truck driver in the city of Sendai, is unemployed. Two years ago he achieved brief notoriety for rescuing a local actress from a robbery attempt while making a delivery to her apartment. Now he is back in the spotlight ? this time as the main suspect in the assassination of a newly elected prime minster who had come to Sendai for a hometown victory parade.Set in a near-future Japan modeled on the United States, Remote Control follows Aoyagi on a forty-eight-hour chase, in a dramatic retelling of the Kennedy killing with Aoyagi in the role of a framed Lee Harvey Oswald. A massive manhunt is underway. As Aoyagi runs, he must negotiate trigger-happy law enforcement and Security Pods set up throughout the city to monitor cell-phone and email transmissions and keep a photo record of street traffic. Can he discover why he has been set up and who is responsible? Can he find the real assassin and prove to the world his innocence ? amidst media pronouncements of his guilt ? before the conspirators take him out?Isaka?s style and worldview are such that he is often compared to Haruki Murakami; but he defies an easy label as a writer, with a voice, a sense of humor, and an imagination that are truly unique. Now, with this excellent translation by Stephen Snyder, readers everywhere can enjoy one of Japan?s finest literary talents.? Winner of the Shugoro Yamamoto Prize and the Japan Booksellers? Prize? No. 1 in Japan?s 2009 This Mystery is Amazing! rankings
$63.97
Features:¡¾HD 1080P Camera¡¿High definition video allows you to discover the details in pristine colors and smooth on-screen movements. 350-degree pan and 90-degree tilts to give a large angle monitor.¡¾WIFI Accessibility¡¿The sturdy WIFI feature allows the camera to be accessed and controlled remotely via mobile devices.¡¾Two-Way Audible¡¿Built-in microphone and speaker provide advanced noise reduction that allows you to listen and talk to the surveillance without interference,you can talk to your family with clear sound quality whenever and wherever you are.¡¾Night vision¡¿With 12pcs IR lamps, can get clear images at night, night vision distance up to 10m.¡¾Motion detection¡¿Motion detection function. When the camera detects something moving, it will push notification to your phone APP.