Ankaka C51126 1080P H.264 Table Lamp P2P Wifi Hidden Camera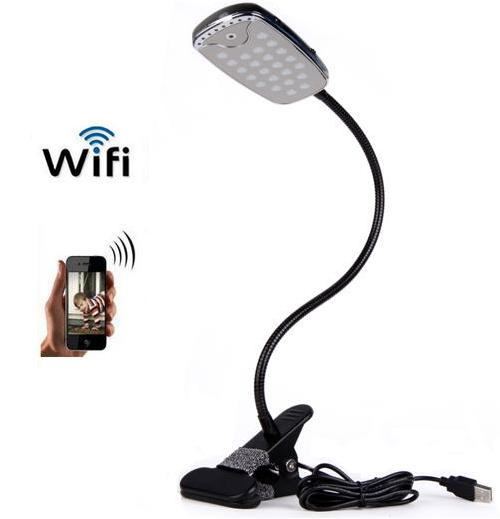 FeaturesAPP real-time monitoring - remote live video anytime & anywhere. Remote control lamp on/off & intensity. Designed with night vision function. Multi-function - Photographing video recording audio recording motion detection and illumination. 5 mega pixel CMOS. H.264 compressed format. Push-to-talk voice messaging. SpecificationPixel - 5.0 mega pixel CMOS. Resolution - 1080P. Video format - AVI. Frames - 25. View angle - 140°. Eye safe lamp beads - 23. Distance of motion detection shooting - 6 m straight-line distance. Minimum illumination - 1LUX. Charger - 2A. Continuous shooting time - about 24 hours. Compressed format - H.264. Sound recording range - 5 . Power consumption - 260MA/5V. Storage temperature - -...
Related Products
$115.18
FeaturesCan be watched and controlled from a mobile device with WiFi connectivity - You need to download a free IP Camera app to connect via your WiFi. From the App you can enable connection to your home/work WiFi network to allow complete freedom and watch from anywhere in the world. The belt has a hidden camera that can not be seen the photo has been enhanced for you to be able to see it easier. The belt included is made from PVC leather and does not have to be used you can fit any belt to the buckle with the camera & DVR inside. The battery life is approximately 30 minutes in constant use so it can not be used for long periods or long term surveillance.). SpecificationsMemory - Support TF card 16GB-32GB (not included). Pixel 5 megapixel CMOS. Resolution 1080P/720P/480P Selectable. Video format AVI. Frames 25. View angle 90°. Distance of motion detection shooting 6 m straight-line distance. Minimum illumination 1 LUX. Compressed format H.264. Sound recording range 5?. Power consumption 200MA/3.7V. Battery capacity 350mAh. Storage temperature -20-80?. Operating temperature -10-60?. Operating humidity 15-85%RH. Play software VLCPlayer / SMPlayer. Computer operation system Windows/Mac OS X. Mobile phone operation system Android / iOS. Web browser IE7 and above (Chrome Firefox Safari etc.).
$73.51
Ankaka A51225 P2P Vintage design H.264 1080P Wi-Fi Clock Hidden Camera with Motion Detection Alarm Function Remote Wireless Camcorder