Safety Technology MINI 2040 Mini Alert Alarm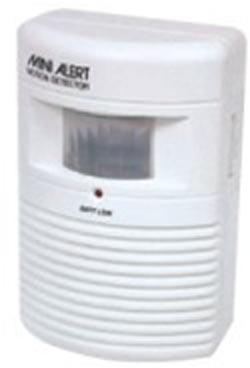 This infrared motion detector alarm sounds an 80 db alarm whenever someone comes within the range of the infrared zone. The zone detection coverage is 80 degrees horizontally out to 8 meters and 20 degrees vertically. 30 second delay allows you to move out of the way before the alarm or chime becomes activated. Alarm Mode. It works by means of Passive Infrared motion sensor which it detects a moving human body within a range of 8 meters x 80 degrees. The alarm sounds automatically when any human body approaches the detected zone. 20 degree vertical coverage allows you to ...
Related Products
$21.67
2 In1 Wireless Infrared Detector Motion Sensor Alarm Bell Security + 2 Receiver
$36.13
The BuckAlerttm motion detecting system allows the hunter to detect movement on any chosen trail or in a particular area. Every hunter has been ?busted? by an animal that has gotten too close or surprised by wild game that steps into a shooting lane and then disappears without taking a shot. Now you have the advantage with the BuckAlerttm. The BuckAlerttm will alert you to an approaching animal by sending a signal from the motion detector to your hand-held receiver. After receiving the signal simply position yourself and get ready to take the shot. o Receives signals from up to 3. FeaturesThree alarm modes: light soundvibrate (sound and vibrate may be turned off completely) 3 lights (red-yellow-blue) programmable to any BuckAlerttm Detector to cover up to 3 different zones. Accepts signal from Detector up to 330 ft. away Unit can accomodate a lanyard. Unit will continue to alert you until you hit reset which resets the receiver (in case of a second animal approaching.) May be used with any Buck Alert reiver. Each receiver will handle up to 3 detectors. Dimension - 9.5 x 6 x 4.5 in. Item weight - 0.67 lbs.
$13.57
IR Infrared Sensor Security Detector Home System 2 Remote Control Wireless IR Infrared Motion Sensor Alarm Security Detector