Safety Technology MINI 2040 Mini Alert Alarm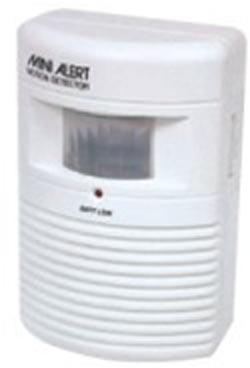 This infrared motion detector alarm sounds an 80 db alarm whenever someone comes within the range of the infrared zone. The zone detection coverage is 80 degrees horizontally out to 8 meters and 20 degrees vertically. 30 second delay allows you to move out of the way before the alarm or chime becomes activated. Alarm Mode. It works by means of Passive Infrared motion sensor which it detects a moving human body within a range of 8 meters x 80 degrees. The alarm sounds automatically when any human body approaches the detected zone. 20 degree vertical coverage allows you to ...
Related Products
$327.00
Nest Protect 2nd Gen Smoke + Carbon Monoxide Alarm (Battery) 3-packs Type: Security & Motion Color: White App-Enabled: Yes Specifications: Alarm Sensor Type: Dual-Sensor Alarm Type: Carbon Monoxide, Smoke Alarm / Detector Features: Hush Feature, Wi-Fi Enabled Commercial / Residential: Residential Connector / Contact Type: None Included: Batteries Power Source: Battery Returnable: 90-Day Voltage (volts): 1.5 Dimensions: 1.50" x 5.30" x 5.30" Protocol: WiFi Type: Smoke / CO / Gas Google Assistant Compatibility: Yes
$11.31
Home PIR MP Alert Infrared Sensor Anti-theft Motion Detector - White/PIR MP Alert Infrared Sensor Anti-theft Motion Detector Alarm Monitor Wireless Security Alarm System
$129.99
Image Is Everything Like a standard motion detector, this Image Sensor will trip you alarm system in the event of a breach. But, unlike a traditional sensor, this sensor will send you a snapshot of the breached area via MMS text message or email. Configuration is easy through the BrickHouse online platform. Know for sure if a burglar is breaking into your home, and have an image of their face for authorities. Or, just be sure that your children made it home safe with a simple visual confirmation. The Image Sensor features full color snapshots in light, and black and white night vision photos with the IR illuminator. Configure the Image Sensor's PIR (passive infrared) sensitivity so you don't have any false alarms; you're even able to make the sensor pet immune so your dog walking past the sensor doesn't trigger an alert. Introducing MORzA: Wireless Security and So Much More MORzA by BrickHouse Security is a fully customizable home security, alarm and automation system that's completely customizable to your unique needs. No matter what you're looking to get out of your system, there is a pricing plan that we can help you optimize so you only get the functions you need and nothing you don't. Call (800) 654-7966 for a personal consultation with one of our security experts.