"3" GE Sentrol PI6000 Alarm Motion Detector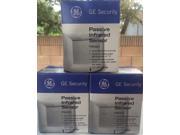 3" GE Sentrol PI6000 Alarm Motion ...
Related Products
$10.98
Features:*Dependable technology: Our motion detector uses state-of-the-art passive-infrared (PIR) to detect any human movement within the detection zone. Overcome false alarm.*Multi-functional: LED ON/OFF optional, delayed adjustment, sensitivity adjustment, power saving mode/use mode optional, code skipping, under-voltage indication.*Reliable range: Communication range is up to 100m/328ft (the distance from the sensors to the receiver/alarm) and detection range of the infrared sensor is approximately 8-12m/26-39ft to keep you informed and safe.*SMT design, high RFI/EMI immunity.*Anti-burnt cover. Dynamic temperature compensation.
$10.74
Unique Bargains Home Office PIR Sensor Alarm Infrared Motion Detector + Mount Bracket Type: Surveillance - Home Safety & Security
$27.45
Wireless Magnetic Sensor House Window Door Motion Detector Alarm System Security Home Guarding