Sabre WP-WKC Wireless Keypad Control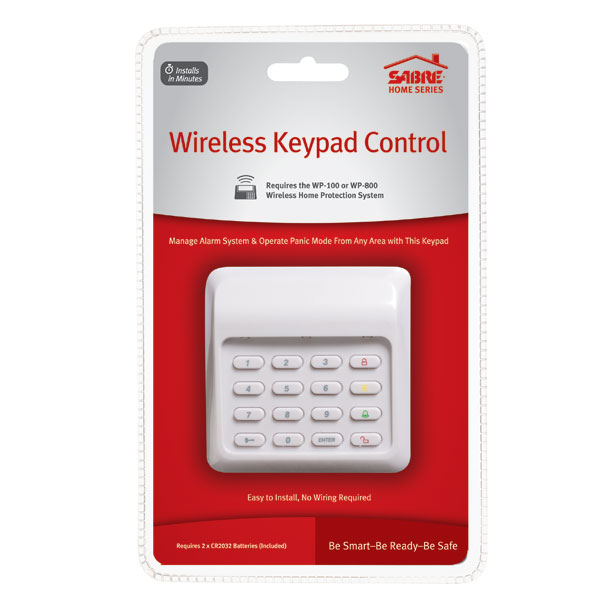 Add a second keypad to your Wireless Home Alarm System. FeaturesCompact design for convenient placement - back door garage master bedroom etc Easy installation - install in minutes Allows you to change security PIN & manage alarm system Tests the system & enrolls other devices Includes panic feature for emergency situations Requires 2xCR2032 batteries (included) SpecificationsDimensions: 3.125 H x 0.75 W x 3.125 ...
Related Products
$170.11
At Schlage, we know security. After all, we have been innovating locks for more than 90 years. Now, with the Touchscreen Deadbolt, we have created a door lock that combines all of our best security features into one lock redefining what it means to be secure. With our innovative touchscreen feature, you have the convenience of going keyless and no longer having keys to lose, hide, carry or forget. The fingerprint-resistant touchscreen ensures numbers won't be detectable to intruders after repeated use, safeguarding your home even more. The Schlage BE469WK is BHMA/ANSI Grade 1 certified, the highest residential rating. Built from high quality materials, this keyless deadbolt gives you the highest level of security at the main point of entry. Additionally, the Schlage BE469WK door lock comes with a built-in audible alarm sensor that alerts you to activity at the door. You can select between 3 alert modes, activity, tamper, or forced entry, providing alerts from first contact with door or handle to when the door is opened. Quickly and easily cycle between the three settings simply by pressing a button on the lock. The Schlage BE469WK includes a touchscreen deadbolt with one back-up key, four AA batteries, and user guide and installation instructions. If you plan to use this product with Z-wave systems other than Wink Home Automation System, please contact your Z-Wave provider to verify compatibility.
$5.44
Features:*With 110Db squealing alarm sound, this siren will not only alert the neighbors of the intrusion, but scare away the burglar out of your house immediately!*This piercing, plug-in siren can be plugged into your keypad/console. It works with your system, responding to signals from an alerted keypad/console.*When the door sensor, PIR sensor, gas sensor, etc. is triggered, the alarm system receives alarm signal, then the siren alarms loudly.*No intruder will hang around when one of these sirens sounds!*Novelty design, low power consumption.
$620.92
The all in one Anti-Wandering Single Door Alarm System functions with just a Door Alarm and a Resident Wristband. The unit is very easy to install. Simply mount the door monitor alarm with the attached double-sided mounted adhesives on non-metal next to any crucial doorways or exits in your care facility plug into an AC outlet then place and secure the wristband on resident. When a resident wearing a wristband transmitter attempts to wander too close or through the doorway the door monitor alarm sounds audibly and visually. To silence and reset the alarm either use the caregiver key or use the wall mounted reset button that can be placed up to 40 feet away. System also includes the optional contact switch. Contact switch is best used on doors in high traffic areas to decrease false alarms. When contact switch is installed the alarm will only alert when the door is open and a resident wearing a wrist transmitter is within 10-14 feet of the open door. For facility or in-home use. Optional wired keypad and magnetic door lock. FeaturesThe system can also be expanded using the optional central monitor to get real time information on multiple doors all at a central location such as a nurse station Easy steps for installation Ideal for any size facility Simple for all staff members to operate Can be expanded to work with a central monitor Adjustable volume and monitor can be set to silent when using a central monitoring unit Alarm alert sound continuous Wired keypad -tl-2010wkp Door bar tester & wristband control unit -dt-01 Magnetic door lock -tl-2025 Large facility central monitoring unit -tl-2015r2 Ac power adapter -ac-03 SpecificationsWeight: 2.9 lbs