Sabre HS-WAK 120 dB Wireless Alarm Kit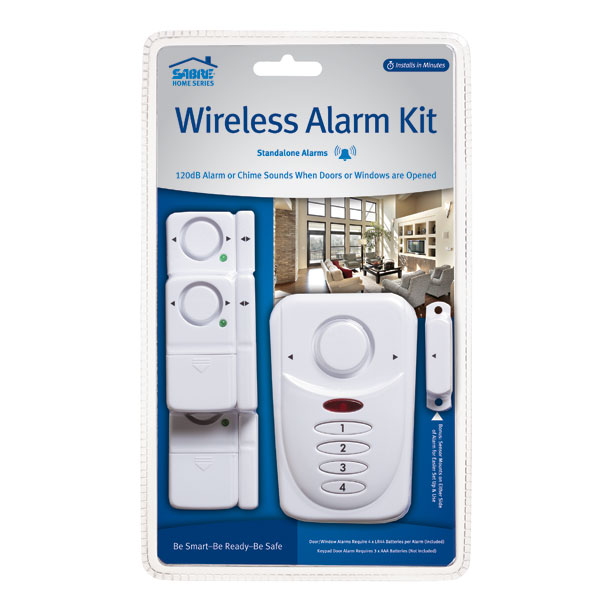 The SABRE Wireless Alarm Kit is an inexpensive yet practical way to help secure your home office apartment etc. FeaturesExtremely loud - 120 dB keypad alarm audible up to 750 feet (230M) away Includes three additional door/window alarms Easy installation - set up in minutes no wiring necessary Keypad door/window alarm requires 3xAAA batteries (not included) Window alarms require 3xLR44 batteries (included) SpecificationsDimensions: 4.5 H x 1 W x 5 ...
Related Products
$75.51
MiLocks XF-02SN Remote Control and Keypad Deadbolt Type: Accessories Color: Satin Nickel App-Enabled: Yes Specifications: Application Type: Residential Lock Style: Deadbolt Door Type: Recommended for Exterior Doors Keyless Functions: Remote Control and Keypad Locking Action: Motor Driven Deadbolt Door Lock Manual Locking: Via Key or Turning Mechanism Inside Auto Lock: No Smart App Compatibility: Insteon RF Capabilities: Yes RF Remotes Included: 1 Remote Control Battery Type: CR2016 Max Remote Users: 10 Bluetooth: not compatible Cylinder Type: Single Cylinder Hand: Non-Handed (fits left and right handed doors) Min. Door Thickness: 1 1/4 in. Max Door Thickness: 1 7/8 in. Keyway Type: KW1 Keys Included: 2 Bump-Resistant: Yes Max # of Keypad Users: 10 Security Code Length: 2 - 8 digits Intruder Alarm: Activates after 4 failed attempts Fits Standard Door Prep: Yes Latch B...
$9.84
Are you worried about intruders breaking into your home, or about your child's safety? Now you can have peace of mind knowing that you've installed a premium quality alarm system in your home. The First Alert Alarm Set adds a level of security to virtually any door or window. When the alarm is triggered, a piercing ultra decibel sound is emitted indicating that your security may have been breached. It installs easily. There's no tools or measuring required. Simply peel off the adhesive backing on the alarm unit and stick it in place. It's just that simple.
$26.46
The SABRE Shed & Garage Alarm sounds a loud siren when someone attempts entry. The sound is designed to alert you and scare off intruders. FeaturesExtremely loud - 120 dB audible up to 750 feet (230M) away Versatile - helps protect your car lawn equipment and other expensive items User-friendly keypad operation Installs in minutes - mount on door window or frame Secured by 4-digit pin code of your choosing Includes two operating modes: alarm and chime Requires 3xAAA batteries (not included) Lets you know when battery is running low SpecificationsDimensions: 3 H x 1.125 W x 4 L