Sabre HS-WAK 120 dB Wireless Alarm Kit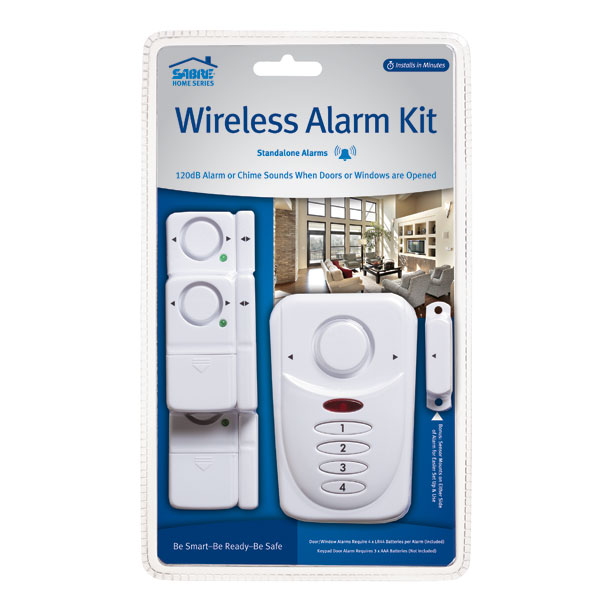 The SABRE Wireless Alarm Kit is an inexpensive yet practical way to help secure your home office apartment etc. FeaturesExtremely loud - 120 dB keypad alarm audible up to 750 feet (230M) away Includes three additional door/window alarms Easy installation - set up in minutes no wiring necessary Keypad door/window alarm requires 3xAAA batteries (not included) Window alarms require 3xLR44 batteries (included) SpecificationsDimensions: 4.5 H x 1 W x 5 ...
Related Products
$79.95
The Numeric Touchpad Keyless Entry system is a simple add-on module that will sit anywhere on your car. You can assign your own 4 digit PIN CODE which you can change at any time. In the event that you lock the keys inside, you can simply "touch" your PIN code on the module from outside your front windshield. Once the last digit is accepted, you see the parking lights flash and the door will unlock automatically. Easy Installation. Works with any vehicle. Adhesive backed keypad with optional included screw mount. Pin code(4 - digits). Simple to change the Pin code. Slim and compact control box. Programmable auxiliary output, can be used to open and close tool boxes or bed covers. Truck output. Built in parking light relay. Supply Voltage DC 12V (Negative car only).
$80.96
Features:*3 groups timing arm and disarm.*Support SMS and dialing alarm.*Smart GSM+PSTN alarm system with APP, including remote arm / disarm, parameter setting and accessory management.(Note: No Wifi Function)*Remote operations and settings by SMS APP.(APP for Android and IOS system.)*It supports phone remote control, including monitoring and intercom with the alarm host.*Multiple types of arm: Remote control arm, out arm, home arm, timed arm, delayed arm.*Support 6 alarm phone numbers and 3 SMS alarm mobile numbers.*Support 6 wired defense zones and 50 wireless defense zones for remote controllers or wireless detectors.(You can add / delete remote controllers / wireless detectors as you need.)*Users can make calls by using keypad on alarm panel, just like a telephone.*Doorbell Function: Press the doorbell icon on the black remote control, when the door sensor separated, it will sound ding dong(Can be used when customers come in). If close the doorbell function on the remote control, when the door sensor separated, the alarm system will alarm (Can be used when illegal intrusion happens). *Support RFID card and remote controller quick arm or disarm.*LCD screen display and voice prompt for all operations; Support external wired siren, with squealing alarm sound.*Coercion password, secretly make calls in emergency*SMS prompt automatically about detectors low voltage.*Built-in re-chargeable battery for the back-up of power failure.*9 zones are available for voice recording, to make a voice recording for the zone name/address, which makes you know easily which zone is triggered when you answer to the alarming call from the Host.
$43.33
The SABRE Wireless Alarm Kit is an inexpensive yet practical way to help secure your home office apartment etc. FeaturesExtremely loud - 120 dB keypad alarm audible up to 750 feet (230M) away Includes three additional door/window alarms Easy installation - set up in minutes no wiring necessary Keypad door/window alarm requires 3xAAA batteries (not included) Window alarms require 3xLR44 batteries (included) SpecificationsDimensions: 4.5 H x 1 W x 5 L