Sabre HS-SGA 120 dB Shed & Garage Alarm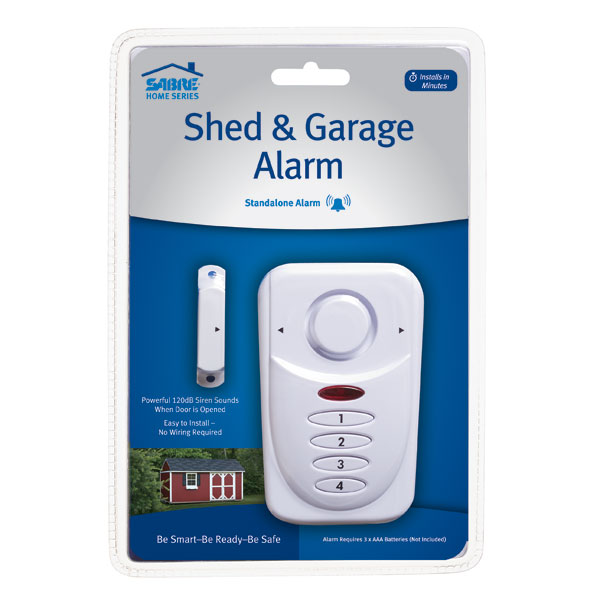 The SABRE Shed & Garage Alarm sounds a loud siren when someone attempts entry. The sound is designed to alert you and scare off intruders. FeaturesExtremely loud - 120 dB audible up to 750 feet (230M) away Versatile - helps protect your car lawn equipment and other expensive items User-friendly keypad operation Installs in minutes - mount on door window or frame Secured by 4-digit pin code of your choosing Includes two operating modes: alarm and chime Requires 3xAAA batteries (not included) Lets you know when battery is running low SpecificationsDimensions: 3 H x 1.125 W x 4 ...
Related Products
$5.44
Features:*With 110Db squealing alarm sound, this siren will not only alert the neighbors of the intrusion, but scare away the burglar out of your house immediately!*This piercing, plug-in siren can be plugged into your keypad/console. It works with your system, responding to signals from an alerted keypad/console.*When the door sensor, PIR sensor, gas sensor, etc. is triggered, the alarm system receives alarm signal, then the siren alarms loudly.*No intruder will hang around when one of these sirens sounds!*Novelty design, low power consumption.
$149.94
features of numeric touchscreen, auto and manual locking mode, holds up to 300 fingerprints/passwords/M1 card, double authentication unlock (fingerprint with password combination or dual fingerprint combination), easy installation (no wiring required), touch wakeup, low battery indicator, etc. Real keyless, this excellent home improvement product ensures the maximum flexibility and convenience of your life.Features:Multiple Ways to Unlock: fingerprint, password, M1 card, remote control.Password Unlock: can save up to 300 password (6-10 number combination).Fingerprint Management: can save up to 300 fingerprints, and support up to 100,000 times of fingerprint changes.Voice Prompts: voice guide when operation. Volume is adjustable and with mute function.Permissions Settings: allow the designated people to unlock the door at the designated time.Easy to Install and Program: equipped with the necessary accessories and English Manual, quick to install.Digital Touch Keypad Panel with Backlight: makes it easy and convenient to use at night.Dual Power Supply: support two ways to supply power. (emergency power supply with the USB interface)Privacy Password Input: unlock the door even when you enter in 20 bits of passwords, as long as you continuous input the correct password.Low Battery Alarm: voice prompt you when the battery is low.Unlock Record Query: provide you the most recent 10,000 unlock operation record.Wide Applications: great for home, office, hotel, apartment, restaurant, dormitory, etc.
$75.51
MiLocks XF-02SN Remote Control and Keypad Deadbolt Type: Accessories Color: Satin Nickel App-Enabled: Yes Specifications: Application Type: Residential Lock Style: Deadbolt Door Type: Recommended for Exterior Doors Keyless Functions: Remote Control and Keypad Locking Action: Motor Driven Deadbolt Door Lock Manual Locking: Via Key or Turning Mechanism Inside Auto Lock: No Smart App Compatibility: Insteon RF Capabilities: Yes RF Remotes Included: 1 Remote Control Battery Type: CR2016 Max Remote Users: 10 Bluetooth: not compatible Cylinder Type: Single Cylinder Hand: Non-Handed (fits left and right handed doors) Min. Door Thickness: 1 1/4 in. Max Door Thickness: 1 7/8 in. Keyway Type: KW1 Keys Included: 2 Bump-Resistant: Yes Max # of Keypad Users: 10 Security Code Length: 2 - 8 digits Intruder Alarm: Activates after 4 failed attempts Fits Standard Door Prep: Yes Latch B...