Alarm Lock U000578 Alarm Lock T2 Trilogy Dl2700 Series 100 Users Dull Chrome Sc1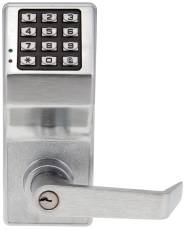 The complete self-contained battery-powered DL2700 is easy to install because it uses the same door prep (mounting holes) as most standard cylindrical knob sets. It can be used as a keyed or keyless lock system with master key and unique master code capabilities. Trilogy models employ Flex-Drive motor locking there are no mechanical chambers to replace or solenoids to bind 100 User codes Programmable keypad: Passage function Master and Management codes. One-time emergency access/service code. Programmable delay entry (5-20 seconds) or key bypass Non-handed 12 button metal keypad new clutch mechanism Specifications: Door: ...
Related Products
$324.00
Alarm Lock Systems Inc. DL2700IC US26D Trilogy Digital Lock T2 Cylindrical Ic 26D, Satin Chrome
$727.98
Provide access for up to 300 users, 3 to 6 digit codes including: Master, manager, supervisor and basic user Grade 1 BHMA Certified durability and rugged clutch mechanism ensure long dependable life Electronic master key system with access customized to each user's hours - Give each user access to common areas and/or their individual area(s) and do so defined by the actual times they are permitted entry there. Easy to install in about an hour retrofits most cylindrical locksets and cleanly retrofits mechanical digital locks' prep. 150 scheduled events save manpower. Program events such as automatic locking or unlocking by daily, weekly or holiday schedule, etc. Includes 4 quick schedules for one-step set up of the 4 most common time schedules Real time clock allows logging of events to within 1 second accuracy Up to 1600 event audit trail with time/date stamp for a printable record of door access activity by user Adjustable entry time allowance from 3-15 seconds Greater security with "temporary keypad lockout" after 6 unsuccessful code-entry attempts (adjustable from 1-9 attempts) - Attempts are also logged by time and date Long-life battery operated; uses 5 off-the-shelf AA batteries; 60,000 cycles, typical. Audible and visual low-battery alert. Available in standard Trilogy leverset (straight). Available finishes (Polished Brass US3, Satin Chrome US26D & Duronodic US10B)
$1,078.00
Our most popular keypad door lock – now with more codes & power!